If you haven't already set up your Google Tag Manager account, please see this
article
first.
How to find your Meta pixel.
Your meta pixel can be found in many places, including using the Meta Pixel Helper Chrome Extension. The easiest place to find your pixel is in your events manager.
Log into your Meta Business Suite account
Navigate to More Tools
Find Events Manager
See ID under your Meta Business name.
How to add your Meta pixel to your Google Tag Manager Account
Once you have your pixel, input your pixel ID into the proper Google Tag Manager variable you created.
In the Blackcart Google Tag Manager container template, this variable is
labelled
Facebook ID.
To learn more about setting up your Google Tag Manager account click
here
.
Once you've updated your container, enable to purchase and page view tags and submit the changes to your tag manager.
Note: verify that blackcart.com is allowed in your list of approved domains. This only applies if you have an allow list enabled for your events manager. More info on managing pixel traffic here.
Your Meta page view tag will fire each time a session visits the 1st page of checkout (shipping info entry) and 2nd page of checkout (payment info entry).
To test your events, navigate back to your Events Manager and use the Test Events feature. Place an order through Blackcart Checkout. Facebook may take a few hours to confirm the event, however if implemented correctly, you should see a purchase and three page view events from the checkout.blackcart.com URL.
Your purchase events should also have the following parameters included with the event:
Currency, Value, Quantity, Product, and Order ID  
Aggregated Events Manager
Meta's Aggregated Event Measurement is a protocol that allows for the measurement of web events from people using iOS 14.5 or later devices. Aggregated Event Measurement limits domains to 8 conversion events that can be configured and prioritized for campaign optimization.
In order to prioritize events for your domain you need to verify the domain. To learn how to verify your own domain see
here
.
Note that due Blackcart checkout's URL, you will be unable to verify your own domain, this means you are unable to prioritize purchase events from Blackcart checkout. As a result your Ad sets may be affected if your conversion event is tied to purchase events. Other conversion events, like initialize checkout (if set on the storefront) or add to cart events, will not be affected. Blackcart Purchase events from non IOS devices and opted in IOS devices would still behave as normal, and would be able to attribute the conversion to your ad campaign.
Benefits of being able to optimize for non-prioritized events:
If you can't verify your domain to edit your prioritized events in your event configuration, you may optimize for non-prioritized events instead.
If you can't consolidate to 8 prioritized events, you may optimize for non-prioritized events.
If you primarily want to reach people using an Android device, you don't need to limit yourself to 8 events.
You can set a vanity domain by determining a new subdomain for your Blackcart checkout. This would be a path you can take in order to verify your domain on Facebook Ad Manager and to include Blackcart purchase events in your Aggregated Events Manager.
Steps for setting up a vanity domain for your Blackcart checkout
Determine your subdomain. We suggest using "try", so try.merchantdomain.com
Create a CNAME for the subdomain of your choosing to origin.blackcart.co.
Share your subdomain with your Blackcart Merchant Success POC.
Blackcart will then complete the setup on our side and will confirm with you once it is live.
How to Optimize for Blackcart Purchase Events.
You may want to optimize your Meta ad campaign for your Try Before You Buy program. You can use the Custom Conversion option to optimize for this unique audience.
Creating a Custom Conversion for Blackcart Purchase Events
Navigate to your Events Manager
Find Custom Conversion
Create Custom Conversion
Select All URL Traffic
Choose Purchase for standard event for optimization
Set your rule to be URL, contains, include 'Success'
Create
You may enter in a conversion value, we would recommend your Average Order Value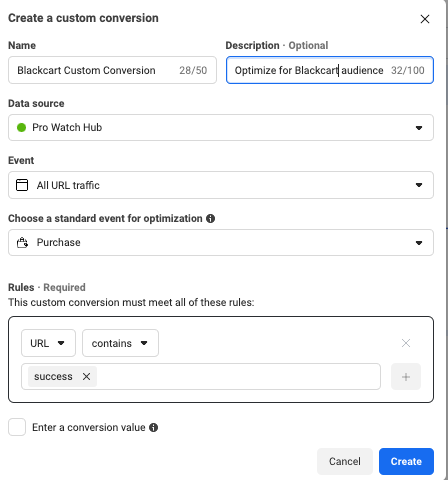 With this custom conversion you can now create an audience based on this parameter for a unique Try Before You Buy campaign audience!